The Florentine
If you are going to be in Florence in June, you will have plenty of entertainment options. The month of June kicks off all the outdoor festivals, concerts and opera performances that are ongoing throughout the summer. One of our favorite things are the outdoor performances that take place in the Boboli Gardens . There is no better setting in which to enjoy a world class performance than the beautiful gardens with the Florence skyline in the distance! The Estate Fiesolana continues with more amazing performances of dance and music in the ancient roman theater in Fiesole. The ultimate finale to the month is the wild Calcio Storico, a no holds barred competition combining rugby, soccer and wrestling, which takes place in Piazza Santa Croce. So without further ado, let's get to it!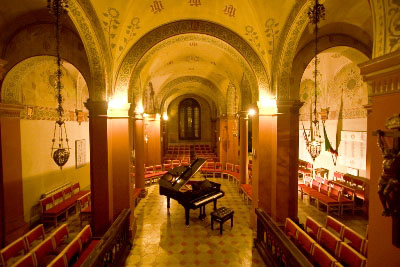 June 9 - La Boheme - One of the most beloved operas of Giacomo Puccini. Set in Paris in the early 1800's, the plot focuses on the love between a seamstress called Mimì and a poet named Rodolfo. The two immediately fall in love with each other but later Rodolfo, tired of her flirtatious behavior, wants to leave Mimì. She is mortally ill and Rodolfo is racked with guilt, believing their tumultuous relationship was the cause. At the end before Mimì dies, they reunite for a brief moment. To see this performance in the intimate setting of St. Mark's Anglican Church is chilling as it is performed masterfully by four singers in costume, accompanied by piano. Performance begins at 9:15. If you would like more info or want to purchase tickets, here is a link:
June 15 - Aida - Guiseppe Verdi's masterpiece which takes place in ancient Egypt. Aida, an Ethiopian princess is captured and brought into slavery. She is saved from death in the copper mines by Radames a military commander who struggles to choose between his love for her and his loyalty to the Pharaoh. Making the situation worse, Amneris, the Pharaoh's daughter is betrothed to Radames who doesn't feel the same way for her. Other than possibly the ancient Roman Arena in Verona, the Boboli Gardens is the premier venue to see this epic opera! If you are unable to be there for the June 15th show, there is another performance on June 25. Performances begin at 9:15. Here is a link for ticket and show info:
June 16-19 - Pitti Immagine Uomo - Pitti Immagine Uomo is the event that opens the European and international fashion fair season every year. It is this show that presents the infinite possibilities of contemporary men's fashions in all its shapes and forms. It will be held in the in the Fortezza Da Basso, a 14th century fortress which is now the main convention center. On the evening of Wednesday June 17, Japanese designer Jun Takahashi (the mind behind the Undercover brand) will present the world premiere of his new menswear collection S/S 2010 in the Boboli Gardens, with a performance showcasing his unmistakable style. This is the first time that he will show his new line in Italy. Undercover is one of the biggest names on the international stage, and is now shining under the spotlights of Paris's fashion week.
June 24 - Calcio Storico - Every year on the third week of June, the Piazza Santa Croce is transformed into a massive sand pit or "Football field". The Calcio Storico is a traditional sporting event combining soccer, wrestling and rugby dating back to the 15th century. Before the games, a beautiful parade flows through the streets of the town. The game is played by four teams; Santa Croce /blue, Santa Maria Novella /red, Santo Spirito /white and San Giovanni /green. Each team represents a different district, similar to the Palio in Siena. The game itself makes a rugby match look like a poetry reading! The scoring is similar to rugby and soccer with a goal at each end and the team with the highest number of goals or Cacce (points) after 50 minutes wins. The rules forbid only sucker-punching and kicks to the head but allow head-butting, punching, elbowing and choking! It is said that when the armies of Charles V came to re-install the Medici government, they sounded off their firearms and cannon's while the Calcio Storico was being played. The Florentines continued their game as if nothing had happened! Charles V and his Imperial army stared in utter shock as the Renaissance costumed players proudly continued to demolish anything that moved until the game was finished. There is nothing like this on earth and though it sounds strange, it is a must see!
Well, that should keep you busy for now. Keep an eye out for next month's issue because July has quite a few major artists in concert. Thanks again for subscribing to"The Florentine", see you next month.
Ciao,
Glenn and Jeanne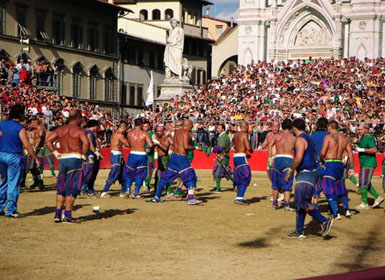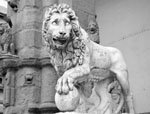 Festivals & Events:
Maggio Musicale Fiorentino- "Musical May"- Italy's oldest and most prestigious music festival.
Calcio Storico- A wild, almost modern day gladiatorial contest between two teams combining rugby, soccer and wrestling. Held annually between June 24-28.
Estate Fiesolana- "Summer in Fiesole" - Nearby Fiesole comes alive with a variety of dance, music and theater performances in their amazing ancient Roman theater. Events run through September.
Florence Dance Festival - International dance companies perform in the cities most beautiful outdoor locations, such as Piazzale Michelangelo and the Boboli Gardens.
International Antique Show - Held in mid-September in uneven years.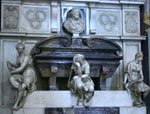 Want to know what's going on in Florence?
Sign up for our monthly newsletter "The Florentine", to find out about upcoming events, deals and happenings!