Florence Piazzas
There is no better way to learn about any location than seeking out its main squares or piazzas. Florence Piazzas have been used for hundreds, sometimes thousands of years to announce important news , preach and even a hanging or two. From the Dominican priest Girolamo Savonarola and his burning of books, arts and anything percieved to be imoral in the Piazza della Signoria to the spectacular Piazzale Michelangelo which was made to honor Florence's favorite citizen, you will feel the enormity of the history that took place there and the simplicity of everyday life. Below is a list of "can't miss" piazzas that you must see when in Florence. Grab a seat in a cafe, relax and drink in the atmosphere and beauty that Florentines have been enjoying for over 500 years.
1) Piazza della Republica - If you are in Florence and you haven't visited the Piazza della Republica, then you have missed one of the city's most important landmarks. The piazza is surrounded by majestic arcades that only add to it's already spectacular appearance. The Piazza resembles the benched portico look of the ancient Diocletian baths complex and was formerly known as Piazza Esendra. It has a great fountain called Fontana delle Naiadi at the centre which was created by the well known architect Mario Rutelli. The fountain has the figure of Glaucus who is trying to wrestle with a fish and is surrounded by four mermaids. Piazza della Republica full story
2) Piazza della Signoria- Piazza della Signoria Florence, Italy, is named after Palazzo della Signoria, also known as Palazzo Vecchio. It is the public plaza that sits in front of the Palace. It is central in the history of the Florentine Republic and is still a meeting place for locals and tourists, alike. The Uffizi Gallery sits on the Piazza della Signoria, and is a famous landmark. Surrounded by statues that sit in front of the Palazzo Vecchio and The Uffizi, the Piazza della Signoria houses some of these famous sculptures including a copy of David by Michelangelo, the bronze equestrian statue of Cosimo I, The Fountain of Neptune, The Lion, Florentine Lily by Donatello and Hercules and Cacus. It is like an open-air museum of art. Piazza della Signoria full story
3) Piazza Santa Croce- The Piazza Santa Croce is home to local artists that show and sell their creations, along with many tourist shops that sell souvenirs. The Basilica, another famous landmark, is just one of the beautiful buildings here, which represent works from some of Florence, Italy's greatest architects and many are designed by artists. This town square used to hold public meetings and many of the Franciscan monks used to preach to crowds there. Now, street entertainers spend their days there and souvenir shops are booming. It's a great place to hang out for free and do some people watching or have a picnic lunch. Piazza Santa Croce full story

4) Piazzale Michelangelo - Piazzale Michelangelo offers one of the most panoramic views of the city of Florence, Italy, perched high above the River Arno. You can sit at this wonderful public plaza and take in the breathtaking views of the river, the city and the mountainous landscape in the background. Be sure to take your camera, there are few views like this one. Sitting on a hilltop, high above the Oltrarno neighborhood of Florence, it places you on even ground with the roof of the Duomo Cathedral, which is across the river. You can see one of the most beautiful sunsets ever in Florence, Italy. A view like the one from this plaza, dedicated to Michelangelo, is normally only possible from a helicopter ride. There are replicas of statues sculpted by him, including a bronze David statue. Piazzale Michelangelo full story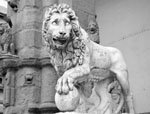 Festivals & Events:
Maggio Musicale Fiorentino- "Musical May"- Italy's oldest and most prestigious music festival.
Calcio Storico- A wild, almost modern day gladiatorial contest between two teams combining rugby, soccer and wrestling. Held annually between June 24-28.
Estate Fiesolana- "Summer in Fiesole" - Nearby Fiesole comes alive with a variety of dance, music and theater performances in their amazing ancient Roman theater. Events run through September.
Florence Dance Festival - International dance companies perform in the cities most beautiful outdoor locations, such as Piazzale Michelangelo and the Boboli Gardens.
International Antique Show - Held in mid-September in uneven years.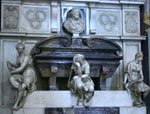 Want to know what's going on in Florence?
Sign up for our monthly newsletter "The Florentine", to find out about upcoming events, deals and happenings!