Piazza Santa Croce
Piazza Santa Croce is home to local artists that show and sell their creations, along with many tourist shops that sell souvenirs. The Basilica, another famous landmark, is just one of the beautiful buildings here, which represent works from some of Florence, Italy's greatest architects and many are designed by artists.
This town square used to hold public meetings and many of the Franciscan monks used to preach to crowds there. Now, street entertainers spend their days there and souvenir shops are booming. It's a great place to hang out for free and do some people watching or have a picnic lunch.
The Piazza is in the eastern part of the city, north of the Arno River. You will see the stunning façade of the Santa Croce Basilica which is made from multi-colored marble, and a bell-tower in gothic style, as you enter the square.
The Basilica is the largest Franciscan church in the world, founded by St. Francis and designed by Giotto. Many people visit Piazza Santa Croce to see the architecture of the buildings, or to visit the Basilica itself, which houses Michelangelo's tomb, and works by other famous artists such as Giorgio Vasari, and Donatello. You must see this building while you are visiting the Piazza Santa Croce area, admission is free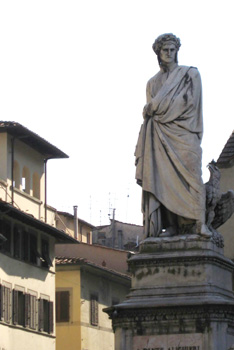 Inside the Santa Croce Basilica is Scuola di Cuoio, which is a school that teaches the fine craft of making leather garments. They offer tours of the workshop and you can save significantly on leather goods of the highest quality. This is the place to buy a fine Italian leather coat at a great price. If you don't need a coat, they also sell purses, wallets, leather boxes, eyeglass cases and change purses. You can get a lot of authentic souvenirs inexpensively.

The Piazza Santa Croce was once used to play Calcio Storico, which was a 15th century costume football game, played over 500 years. Calcio Storico, or costume football, was played in front of the Basilica by young noblemen, and the festival is still held every year at Piazza Santa Croce on June 24th, with an awesome, medieval costume pageant, Florentine food and fireworks.

Another Piazza Santa Croce feature is Palazzo Antellisi, on the south side, which is a well-preserved, 16th century house. There are also many Tuscan restaurants and cafes where you can grab an espresso or a bite to eat while strolling along the plaza.

Every year in January, Florence's annual Artisan Chocolate Fair is held in Piazza Santa Croce. The top Chocolatiers in Tuscany display the art of making chocolate and you can sample the results. If you like chocolate, this is a lot of fun and there are games, shows and live music. Be sure you fit this in, if you are coming this time of year.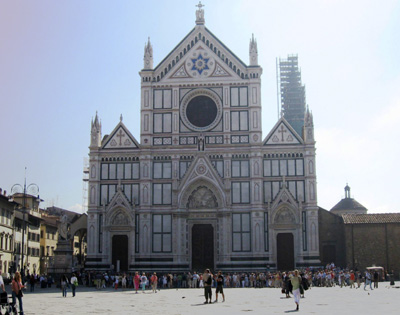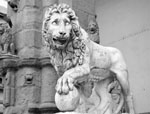 Festivals & Events:
Maggio Musicale Fiorentino- "Musical May"- Italy's oldest and most prestigious music festival.
Calcio Storico- A wild, almost modern day gladiatorial contest between two teams combining rugby, soccer and wrestling. Held annually between June 24-28.
Estate Fiesolana- "Summer in Fiesole" - Nearby Fiesole comes alive with a variety of dance, music and theater performances in their amazing ancient Roman theater. Events run through September.
Florence Dance Festival - International dance companies perform in the cities most beautiful outdoor locations, such as Piazzale Michelangelo and the Boboli Gardens.
International Antique Show - Held in mid-September in uneven years.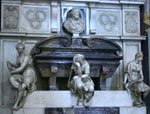 Want to know what's going on in Florence?
Sign up for our monthly newsletter "The Florentine", to find out about upcoming events, deals and happenings!