Siena
Siena, Italy is a town about 60km south of Florence, or approximately 2 hrs away that was originally settled by Etruscans from 900 to 400 BC. Legend has it that Siena was settled by Senius, the son of Remus, the brother of Romulus, who Rome was named for. The emblem of the city is a she-wolf suckling infants, and there are statues all over the city.
Siena became a major money lending center and was important in the wool trade. It was during the 1200's that construction of the Gothic cathedral or Duomo was finished. The Piazza del Campo, was also constructed during that same period and is one of the most beautiful public spaces in Europe.
The Palio race is an annual event that is held at the Piazza del Campo. This traditional medieval horse race is widely attended and televised. While it has been a controversial event that can be brutal and dangerous for the horse and rider, the competition is held in July and August to vie for a trophy that bears an image of the Blessed Virgin Mary.
The Museo Civico, which is the city museum, houses some of the finest sculptures and frescoes from the renowned Sienese School. Also known as the Palazzo Pubblico museum because of its location, some of the artwork may seem eerily interesting as you wander around the huge castle.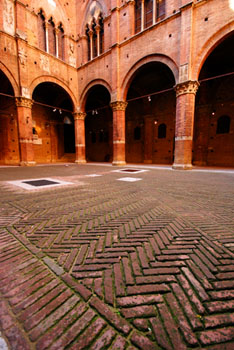 The bell tower, Torre del Mangia has steep stone stairs that give you a marvelous view of the town of Siena, and the Piazza below. Well worth the climb, needless to say.

The Piazza del Campo has the late medieval look of the gothic past with a lofty watch tower and fortified facades. Although the architect is unknown, "Il Campo", as it is known by the locals is an asymmetrical open space where public festivities, including the Palio are held.

Shopping in Siena is a world-wide travelers dream with many one of a kind boutiques and shops, where you can stroll along three main streets. You can stop for gelato, pizza or a drink while browsing through the clothing, gourmet food stores, wine, household goods and decor, framed art and specialty shops. If you visit during July or February, you will find the best bargains, because almost most of the boutiques and stores reduce prices 20%-50%.

The overall feeling of the hillside town of Siena, with its beautiful Piazza del Campo, is a bustling taste of Italian life, where it is easy for a visitor to experience the food, wine, and take home the Italian specialty items that are hard to find anywhere else.

You can visit artistic, architecturally historic buildings, shop and relax, or attend town festivities held in the Piazza del Campo. It's a slice of Italy you won't want to miss.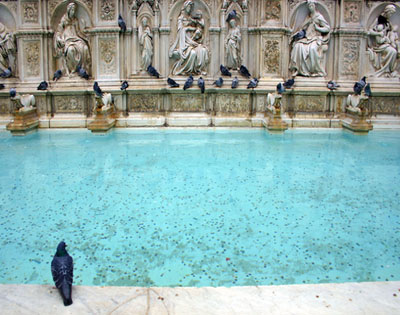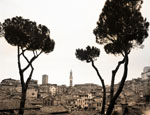 Getting to Siena from Florence:

By Bus- Traveling to Siena from Florence is much easier and faster by bus. The express buses run 19 times a day and take only 75 minutes. If that wasn't enough conections, there are 18 more regular, (slower) buses that take between 1 1/2 and 2 hours. Buses leave from Florence's SITA station.

By Train- If you are traveling by train it is important to know that the train station in Siena is outside of town. Trains are readily available and the trip takes between an 1 1/2 and 2 1/4 hours.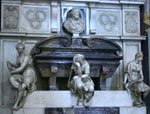 Want to know what's going on in Florence?
Sign up for our monthly newsletter "The Florentine", to find out about upcoming events, deals and happenings!