Ponte Vecchio
The Ponte Vecchio Bridge in Florence Italy has a history that dates back to ancient Roman times. It has been documented as early as the year of 996, when it was built with piers of stone and a superstructure of wood. This Medieval Florence Bridge spans the Arno River at its narrowest point, where it runs through the town of Florence, Italy. If you visit Florence, Italy, you must see this piece of history that is still an active marketplace today.
It was swept away in floods over the years and rebuilt in 1333 of stone, only to be swept away again, except for the two central piers. It was rebuilt in 1345, much as it has been in modern times. It was severely damaged again in 1966 by another great flood on the Arno River. Ponte Vecchio Bridge is Europe's oldest, wholly stone, closed-spandrel, segmental arch bridge.
The bridge is unique in architecture and has always hosted shops and merchants who sold goods on tables before shops were permitted. It was originally occupied by butchers, but is occupied by jewelers, art dealers and souvenir shops today. In the seventeenth century, the back shops were added, which can be seen upriver.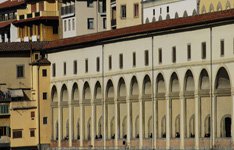 Vasari's Corridor was built above the Ponte Vecchio Bridge in 1565 to connect Florence's town hall to the Pitti Palace. In 1593, the Medici Grand Dukes prohibited butchers from selling there anymore to give the area a more prestigious image, and eliminate the smell in the enclosed corridor. The butcher's places were quickly taken by gold merchants.
Vasari Corridor is an elevated, enclosed passageway that was motivated by the Medici Grand Dukes need for security when moving from his residence palace to the government palace. The corridor goes across the top of the bridge and offers panoramic windows that face the Arno River.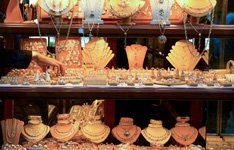 Germans destroyed all of the bridges in Florence, except for Ponte Vecchio Bridge, during their retreat of World War II. The only thing that saved this Florence Bridge was the destruction of the buildings on both ends, which blocked the access to the Ponte Vecchio Bridge.
All along the Ponte Vecchio Bridge, you will see padlocks that have been placed in various places, especially the railing around the statue of Benevento Cellini. This dates back to a belief that lovers lock the padlock and threw the key into the Arno River to become bonded forever.
This is a fairly recent tradition to this Florence Bridge, perhaps due to the padlock shop owner at the end of the bridge. With mass tourism to Florence, thousands of padlocks are removed frequently, but be aware that the city now gives a penalty to anyone caught locking something onto the fence.
Festivals & Events:
Maggio Musicale Fiorentino- "Musical May"- Italy's oldest and most prestigious music festival.
Calcio Storico- A wild, almost modern day gladiatorial contest between two teams combining rugby, soccer and wrestling. Held annually between June 24-28.
Estate Fiesolana- "Summer in Fiesole" - Nearby Fiesole comes alive with a variety of dance, music and theater performances in their amazing ancient Roman theater. Events run through September.
Florence Dance Festival - International dance companies perform in the cities most beautiful outdoor locations, such as Piazzale Michelangelo and the Boboli Gardens.
International Antique Show - Held in mid-September in uneven years.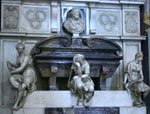 Want to know what's going on in Florence?
Sign up for our monthly newsletter "The Florentine", to find out about upcoming events, deals and happenings!