The Florentine
Hi everyone and welcome to this month's edition of "The Florentine". This year's weather has been absolutely beautiful. As of this writing, it is still in the lower 70's in the daytime! So if you are lucky enough to be in Florence in November you will be rewarded with small crowds, great weather and plenty of events to keep you busy. There are some big comeback tours featuring great 80's bands, a film festival and the coolest marathon race you will ever see. So many things to see and so little time…
Festival Dei Popoli (Florence Film Festival) - November 1-7 - This year is the 50th anniversary of the Florence Film Festival. The festival is dedicated to documentary films and because a film festival is never a finished work, the Florence film festival is a sea of constant movement. The Festival dei Popoli, initially intended as a point of arrival for the world of documentary film, in actuality finds itself the most important event in its field. Anyone with a passion for documentary film makes the trek to Florence to join together and utilize the best resources and talent that make the field so unique and groundbreaking. Last year's program focused on three points of view: looking back at past films, reporting on the present, and creating workshops for the future. Ditto this year. Bit by bit, the Festival is shaping into a major event, not only thinking of films as objects to be shown or subjects to reflect upon, but doing it all to foster the ideas and resources for films to come. For more information click the link below:
Carmen- November 14 at St. Marks Anglican Church. Georges Bizet's Carmen is one of the most famous operas in the world! After falling in love with the beautiful gypsy Carmen, soldier Don José helps her to escape from prison. But he is getting deeper and deeper in trouble because Escamillo, the famous Toreador, is madly in love with Carmen... In the end, Don José has to choose between two women from two social classes which leads to a date with destiny. The opera in performed in four acts by four singers in costumes, accompanied by piano, in the intimate setting of the Anglican Church of Florence, every act will be explained and set up in English. For more information and reservations click the link below:
Spandau Ballet- November 17 at the Nelson Mandela Forum - After 20 years, Spandau Ballet's original five members will return for their 2009 world tour. During their career, Spandau Ballet were global superstars selling millions of records, played sold out stadiums and performed at Live Aid. Now, they're back and ready to continue to perform their biggest hits to a new generation of music lovers! Don't miss Spandau Ballet performing all of their greatest hits like, "To Cut a Long Story Short", "True, "Gold" and "Pleasure". For more information and reservations click the link below:
Living Colour– November 21 at the FLOG Auditorium- Get ready to rock! Living Colour, one of the most influential 80's bands is back with a vengeance and coming to Florence. Living Colour has released their first new studio album in five years entitled "The Chair in the Doorway" on Megaforce Records. The legendary downtown New York rock band, exploded out of CBGB's in the late '80s, became a regular on MTV and graced the cover of Rolling Stone. The band also played stadiums around the world with their multi-platinum debut album Vivid. Catch Living Colour performing their new album as well as their greatest hits like "Cult of Personality" and "Open Letter To a Landlord". For more information and tickets click the link below:
Florence Marathon– November 29- This year is the 26th running of the Florence Marathon. The marathon begins at Piazzale Michelangelo and winds through the beautiful streets of Florence. The Florence marathon is appropriate for all levels of runners and spans a total of 42.1 km (approximately 26.2 miles). Many runners from all over the world enter, as it is not only competitive but probably the most scenic marathon. So whether you are a serious competitor or just want to run in the footsteps of the Medici, it doesn't get much better than this! The marathon finishes in front of the final resting place of Michelangelo, Galileo and Machiavelli at the Santa Croce Basilica.
Well, that's it for this month. I hope that gives you a few ideas of things to do and see in Florence. The best advice I can give you is to visit one attraction or event a day, preferably in the morning, and take the rest of the day to sit in the piazzas and drink in the laid back atmosphere and beauty of Florence. There's tons of detailed information on our site that will help you plan the perfect trip. Thanks for subscribing to "The Florentine" and we'll see you next month.
Ciao,
Glenn and Jeanne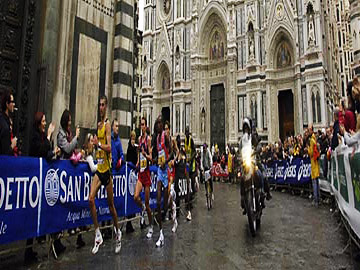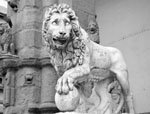 Festivals & Events:
Maggio Musicale Fiorentino- "Musical May"- Italy's oldest and most prestigious music festival.
Calcio Storico- A wild, almost modern day gladiatorial contest between two teams combining rugby, soccer and wrestling. Held annually between June 24-28.
Estate Fiesolana- "Summer in Fiesole" - Nearby Fiesole comes alive with a variety of dance, music and theater performances in their amazing ancient Roman theater. Events run through September.
Florence Dance Festival - International dance companies perform in the cities most beautiful outdoor locations, such as Piazzale Michelangelo and the Boboli Gardens.
International Antique Show - Held in mid-September in uneven years.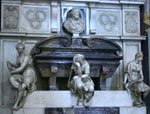 Want to know what's going on in Florence?
Sign up for our monthly newsletter "The Florentine", to find out about upcoming events, deals and happenings!