The Florentine
Welcome to your new edition of "The Florentine". August features quite a few festivals outside of Florence, so we will concentrate on interesting things going on in the areas surrounding Florence. All of the the festivals and events listed below are easily accessible by train and are relatively inexpensive as far as train fare. Summertime in Tuscany is one festival after another and it seems like the locals practically live outside for two months! If you are traveling to Florence or anywhere in Tuscany, you should definitley check out a few of the events listed below as it will give you a chance to mingle with the locals and discover the Dolce Vita. So, lets get to it: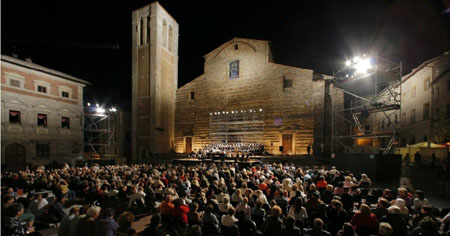 Festival Pucciniano 2009- The 55th annual Puccini Festival is taking place during the first three weeks of August at beautiful Torre del Lago. Torre del Lago lies between the Lake of Massaciuccoli and the Tyrrhenian Sea less than two hours from Florence. The festival celebrates famous Italian composer Giacomo Puccini and features a collection of his finest operas performed in the beautiful lakeside, open air theater. This year's performances will include Tosca, Turandot and Manon Leascaut. Take a day to relax and enjoy the beautiful setting of a lakeside village and unforgettable performance that will be the highlight of your stay! For more information on the festival, tickets and suggestions for accommodations click here:

Festa della Bistecca- If you are a lover of food then you cannot miss the Festa della Bistecca! The region of Tuscany is famous for many things but perhaps its biggest claim to fame is this massive T-bone steak seasoned to perfection and served rare. This homage to beef is a one of a kind festival that sums up Tuscany by showcasing its two greatest products, steak and wine from the Chianti region. The festival takes place on the weekend of the 14th, 15th, and 16th in the town of Cortona which is the same town where they filmed the movie "Under the Tuscan Sun" with Diane Lane. Cortona is a lovely little town which is less than an 1 ½ hr train ride from Florence and only costs about €7.20 each way.

Palio- The famous horse race held in Siena on August 16th. The city comes alive for this wildly unique horse race that all seventeen neighborhoods invest every spare euro they have to prepare for this battle for neighborhood pride. Each neighborhood takes place in a lottery to see which horse will represent their neighborhood and then the race to pick a jockey is on. The race takes place in the Piazza del Campo and all the horses are led into the Contrada church to be blessed before the race! The jockeys ride bareback and the winner is the first horse to cross the finish line with its head ornament intact, whether the jockey is still aboard or not. The winning jockey receives a silk banner or "Palio" and is given a huge celebration back in their neighborhood to celebrate their dominance. Siena is less than 1 ½ hr train ride from Florence and only costs about €6.20 each way. If you want to attend the Palio, arrive early because the race has been known to attract up to 120,000 spectators!

Aquaviva di Montepulciano –This year is the 13th edition of the live rock festival of the beer. The five day celebration beginning on September 13th highlights the most innovative local and international musicians in Alternative, Rock Reggae and World Music. The performances are held on a large outdoor stage in the beautiful Piazza Grande which is the main square. The festival takes place in Montepulciano which is a little over a 2 hr train ride from Florence and costs only €9.60. Aquaviva di Montepulcino is one of the most popular summer festivals in Italy because of the fantastic music and amazing food. It is as much a gastronomic festival as it is a music festival. Montepulciano is famous for producing two of Italy's finest wines, Vino Nobile di Montepulciano and Rosso di Montepulciano.

Well, that's it for now. Keep an eye out for next month's issue because September is another big month for important festivals taking place in and around the Florence area. Music,food and much more! Thanks again for subscribing to"The Florentine", see you next month.

Ciao,

Glenn and Jeanne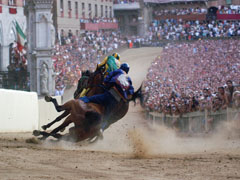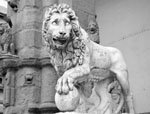 Festivals & Events:
Maggio Musicale Fiorentino- "Musical May"- Italy's oldest and most prestigious music festival.
Calcio Storico- A wild, almost modern day gladiatorial contest between two teams combining rugby, soccer and wrestling. Held annually between June 24-28.
Estate Fiesolana- "Summer in Fiesole" - Nearby Fiesole comes alive with a variety of dance, music and theater performances in their amazing ancient Roman theater. Events run through September.
Florence Dance Festival - International dance companies perform in the cities most beautiful outdoor locations, such as Piazzale Michelangelo and the Boboli Gardens.
International Antique Show - Held in mid-September in uneven years.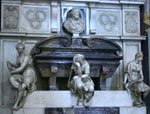 Want to know what's going on in Florence?
Sign up for our monthly newsletter "The Florentine", to find out about upcoming events, deals and happenings!