Bell Tower
The Campanile di Giotto, was designed in 1334, by Giotto di Bondone when he was 67 years old. Although he died three years after construction started, the tower was completed by others. Giotto was a well known architect, artistic designer, painter and sculptor, and was involved in the construction and design of several Florence, Italy landmarks.
You can look down the center of this magnificent bell tower to the lobby floor. The view from the top is an awesome overview of the town of Florence and the beautiful mountainous landscape in the background.
Be sure to bring your camera because you must go to the top and experience the view, as well as the experience of looking down to the lobby floor through the center. Caution, this is not for the weak of heart, (as there are 414 steps to climb) or those that get vertigo, (being over 278 feet in the air)!
The campanile is located in Cathedral Square, which is also known as Piazza del Duomo. It stands next to the Cathedral Santa Maria del Fiore, in Florence's town center. The tower is frequently visited by artists and architects to admire the Florentine gothic style, sculptural decorations and marble architecture. The panoramic terrace at the top is one of the most beautiful in Italy.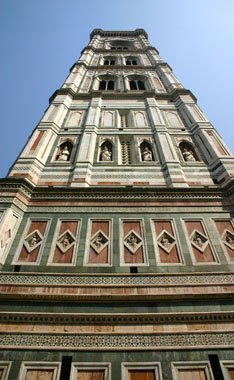 It looks more like a decorative monument than something to be functional. It is a great place to get a view of the Baptistery as you ascend and a close-up of Brunelleschi's dome, the Duomo's red cathedral dome.
Giotto had influence in many of Florence's churches, cathedrals and monuments. The construction proceeded slowly as Giotto was creating the external covering and the inside of the structure at the same time. By the time of Giotto's death, the bell tower was only completed up to the height of its pointed entrance, approximately two levels.
In 1348, Andrea Pisano took over and was later followed by Franceso Talenti. It still managed to have a feeling of similarity with its square shape, strong angular octagonal shaped pillars, and magnificent sculptures and materials. The reliefs and statues on the lower levels are copies of the originals which are now housed in the Museo dell'Opera del Duomo.
Giotto's Bell Tower is a great vantage point to see many of Florence's landmarks, such as the Basilica of Santa Croce. There are so many things to see in Florence, Italy, and the influence of great artists like Michelangelo and Giotto are prevalent in many of its architectural structures through color, sculptures, statues and carvings. The Giotto bell tower features red marble from Sienna, white marble from Carrara and green marble from Prato. This bell tower is considered a masterpiece.
When you visit Florence, Italy, there are several artistic landmarks you must see. Giotto's Bell Tower is one of them. It will leave you with a feeling of awe and humility. You should plan your sightseeing to include visiting the other great Cathedrals in the square. You can feel the genius of the great Tuscan artists that rose from this region.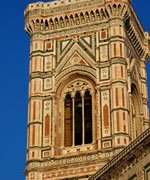 Bell Tower Information:
Address- Piazza del Duomo.
Visiting Hours- Daily 8:30am- 6:50pm (last admission 40 minutes before close).
Bus: 1, 6, 17, 14, 22, 23, 36, 37, or 71
Number of Steps- 414 steps!
***Just a side note about attire for women in all Basilicas and Cathedrals. You will not be allowed to enter if you have bare shoulders or wearing shorts! Bring a shawl or long sleeve shirt with you.***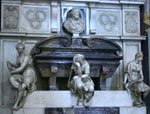 Want to know what's going on in Florence?
Sign up for our monthly newsletter "The Florentine", to find out about upcoming events, deals and happenings!