Bargello
The Bargello Museum has a varied history, besides being one of the oldest buildings in Florence dating back to 1255. It was the headquarters of the Captain of the People, then Podesta, the "Peoples Palace" before becoming Bargello's residence in the 16th century and a prison during the whole 18th century. It didn't become known as a museum until the mid 19th century. It looks more like a fortress than a museum.

Today, it has many sculptures and Gothic decorative arts by masters of their time, including Michelangelo. In the 14th century hall, you can see some great works by Donatello, including the early marble David, and more mature bronze David. There are works from many of his students, such as Rossellino, Ghiberti and Filippo Brunelleschi. There are also glazed terracottas by Luca della Robbia that include Madonna with Child.

The ground floor exhibits 16th century Tuscan masterpieces by Michelangelo, such as Bacchus, the relief representing Madonna with Child, Brutus and David-Apollo. While those are the main focus, there are other famous masterpieces by other artists of the period, including Giambologna's Mercury.

The bronze animals that were originally in the grotto of the Medici villa of Castello are now displayed on the staircases. Ivory and Porcelain collections are distributed throughout both the first and second floors. You can see Renaissance jewels, very unique Panel pieces of art, Venetian glass, German and French gold works and wooden sculptures. They even have a vast medals collection of the Medici family.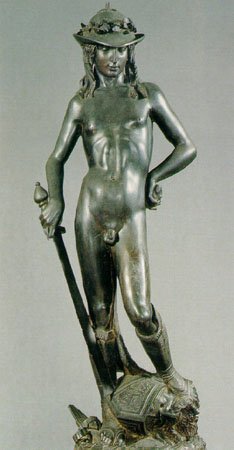 If you go into the inner courtyard of the Bargello Palace museum, you will see several displays of original art moved from Palazzo Vecchio and Boboli Gardens. There is a gift shop where you can even buy some miniature copies of some of the great sculptures that are here at Bargello Museum.
The museum is open at 8:15 in the morning until 1:50 in the afternoon, and is only 4 Euros to get in. It is located in the heart of Florence, Italy, right in the Duomo district. It's easy to fit in several activities in this district, with its Cathedrals and bell towers. Just be sure you plan to tour the Bargello early, since it closes mid-afternoon. The bell tower that you can see from the Bargello Museum belongs to the Benedictine Abbey.
Florence Italy is known for famous Tuscan artists, especially Michelangelo. You can feel his influence and genius everywhere, in the museums, monuments and cathedrals throughout Florence. His famous masterpieces are divided between several of Florence's museums, and you can see four of them here at Bargello museum.
This may not be the most famous Florence museum, but it is one of my favorite. It's not as crowded as some of them, but you can see the most Renaissance sculptures here, more than at the Uffizi or Accademia gallery. You'll love the building itself, which is full of grand staircases and huge halls. Be sure to see the display of Michelangelo's work and Donatello's David, which are worth the cost of admission.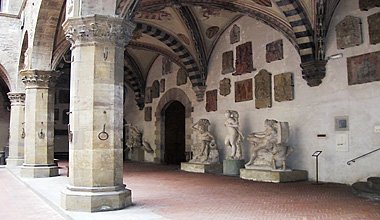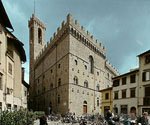 Bargello Museum Information:
Address- Via del Proconsolo 4 (at Via Ghibellina).
Visiting Hours- Mon-Sun 8:15am-2pm.
***Just a side note about attire for women in all Basilicas and Cathedrals. You will not be allowed to enter if you have bare shoulders or wearing shorts! Bring a shawl or long sleeve shirt with you.***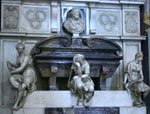 Want to know what's going on in Florence?
Sign up for our monthly newsletter "The Florentine", to find out about upcoming events, deals and happenings!