Thank You
In an hour or two, you'll receive an e-mail welcoming you to The Florentine. It will also ask you to confirm your subscription. Why? To make sure that no one subscribed your e-mail address without you knowing about it. If you don't receive this e-mail (the subject is "Please Confirm Your "The Florentine" Subscription"), please check your trash or junk folder, or your ISP's webmail filtering function. Your mail provider may have incorrectly filtered the message. Please indicate that it is not trash, or otherwise whitelist all mail coming from www.travel-to-florence.com, so that you can receive this e-zine. If you don't find the e-mail anywhere, you may have entered a typo in the address. So, in case you don't receive it at all, please come back and try again. To continue with your visit to the site, click here to return to the home page or select a page from the Navigation menu on the left.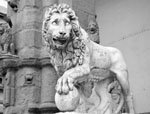 Festivals & Events:
Maggio Musicale Fiorentino- "Musical May"- Italy's oldest and most prestigious music festival.
Calcio Storico- A wild, almost modern day gladiatorial contest between two teams combining rugby, soccer and wrestling. Held annually between June 24-28.
Estate Fiesolana- "Summer in Fiesole" - Nearby Fiesole comes alive with a variety of dance, music and theater performances in their amazing ancient Roman theater. Events run through September.
Florence Dance Festival - International dance companies perform in the cities most beautiful outdoor locations, such as Piazzale Michelangelo and the Boboli Gardens.
International Antique Show - Held in mid-September in uneven years.